Your chance to win up to 1,000 XTZ and a Ledger Nano X!
Win 1,000 Tezos and a Ledger Nano X!
To celebrate the integration of Tezos on Ledger Live, Ledger is hosting a contest where up to 1,000 XTZ (equivalent to US$ 1,400) and other prizes can be won!
To celebrate this Tezos integration they are launching this great contest where 100 winners will be selected, with amazing prizes.
I have my entries in. ???? Click the link below to sign up and complete the social media challenges to earn more entries! Below is a list of the prizes as well!
https://contest-tezos.ledger.com/17374/9217373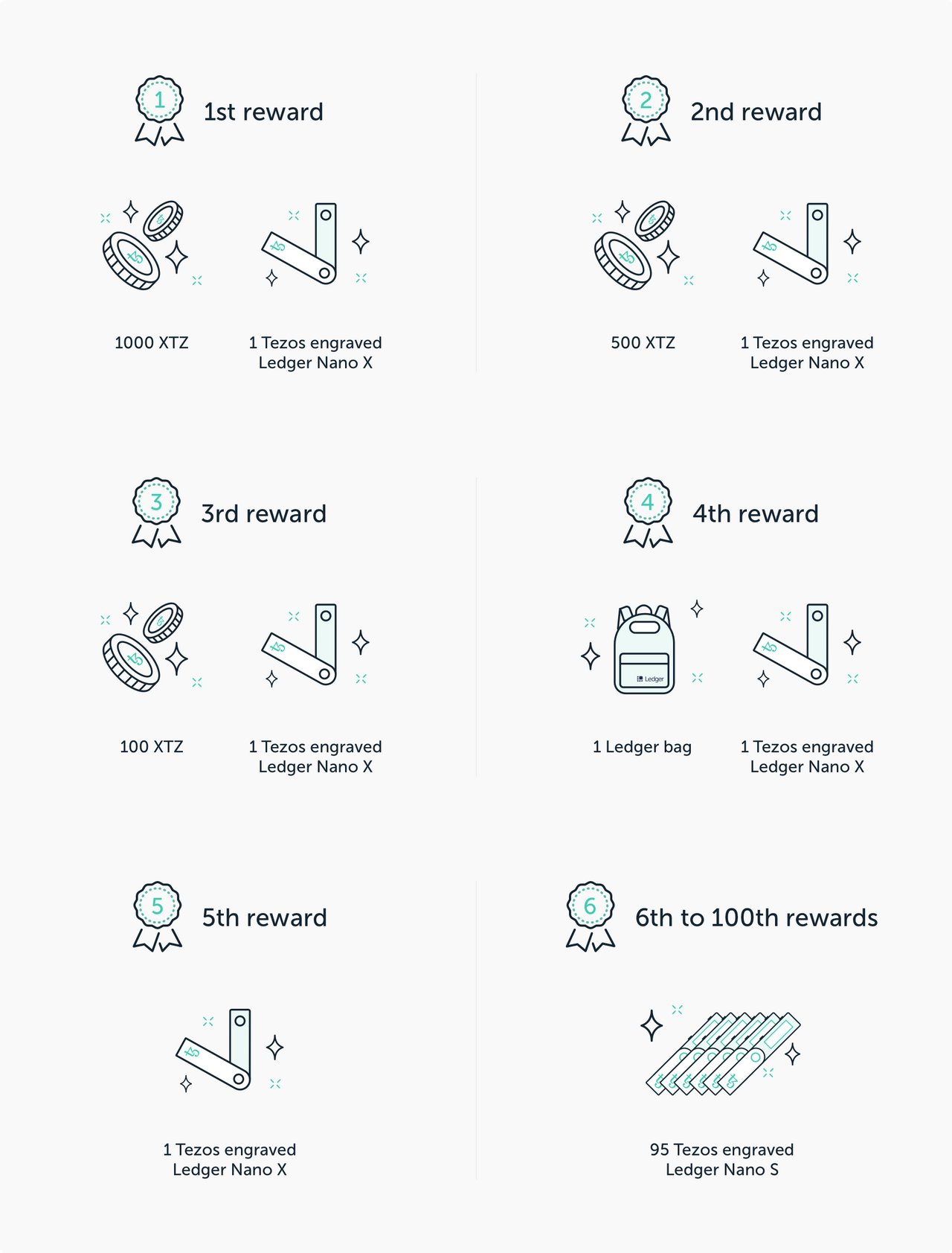 Enter the contest
To enter the contest go to this page. Once you have entered your e-mail address and joined the contest, you will be able to earn points. If you do not use the page linked above, you will not accumulate any points – even if you perform actions that would otherwise earn points.
Prizes & Winners
At the end of the contest, 100 winners will be randomly selected among eligible participants. Keep in mind that the more points you have, the better your chances of winning.
To unlock the first three prizes, you will need to collect a minimum amount of points:
1st reward: minimum of 2,000 points
2nd reward: minimum of 1,000 points
3rd reward: minimum of 500 points
For the other rewards, everyone participant can win, whatever his number of points.
Rules
Below are a few further rules for this contest that need to be considered in order for one to be eligible:
You must be at least eighteen (18) years old.
Due to delivery restrictions, we cannot ship prizes to the following countries and areas: Iran, North Korea, Pakistan, Crimea and Sebastopol.
Providing an e-mail address is required (which will be used for informing potential winners).
Ledger, Tezos Foundation, TQ Tezos, and Obsidian Systems employees and their families cannot join (sorry guys and gals).
You can only enter the contest with one e-mail address. You cannot refer yourself for the contest and can only complete each action once, except for the referral link that you can send to as many contacts/friends as you want.
Good luck to all who enter!